This time last year I was busy finishing the final stitches on
Addison's stocking
. As I mentioned in
this post
, my Grandma began making these beautiful needlepoint stockings back in 1973. Starting a brand new stocking for our new baby boy brought so much excitement as I imagined how proud my Grandma would have been. Seeing her great-grandson and another stocking would have meant so much to her. What a joy it is to continue this tradition and to remember what an amazing woman my Grandma was!
A HUGE thank you to my mom for getting the stocking started and doing all of the hard work! Now I just have to go back and fill in the backgrounds...as easy as it is, my both-hands-free moments are few and far between these days. I doubt it will be finished by Christmas, but I am going to try!
And the sweet little boy this stocking belongs to. Oh, how he melts my heart...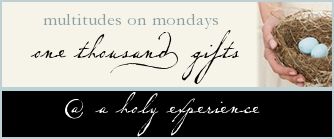 Counting gifts...
810. A new stocking representing a precious new life that has been entrusted to our family.
811. Honoring my Grandma and remembering her legacy.