About a month ago, I found myself the weariest I've ever been in my role as a mother.
Work has taken My Hero away more than ever (not at all by his choice!), my 3 year-old daughter was anchored to the summit of a mountain of defiance, independence, and disobedience, and my 7-month old woke up from each nap at the 30 minute mark and still hadn't slept through the night. Unlike his usual easy-going, content self, he was grumpy and whiny. In light of this, I found myself more than exhausted, joy-less, and in complete survival mode for a few days.
Thanks to my word for 2013 -
pray
- I have constantly been reminded that my posture needs to be kneeling at the feet of Jesus. Yes, I pray that Addison will embrace guidance and be cheerfully obedient. I pray that Levi would peacefully sleep at nap time and throughout the night. But my most important prayer,
God, please change me. Despite the ups and downs of these fleeting days, I want to radiate your JOY, PATIENCE, LOVE, and GRACE to my family.
God answered my prayers and I am changed. Because of Him, I have been given a new lens to view my role as a mother and I am FILLED with JOY. Despite a challenging day with a strong-willed toddler or a baby boy who has trouble sleeping, I am overflowing with JOY.
How?
Gift #770 (from my
last post
): 770. Serving my children all day with no expectations of anything in return (a glimpse into the heart of Jesus, who "made himself nothing, taking the very nature of a servant." -Philippians 2:7). The difference: this is not easy for me and my selfish heart screams for recognition and acknowledgement.
As I've transitioned from one to two children, I've realized that my "me time" has drastically declined, especially since Levi isn't a consistent sleeper. I thrive on alone time, but the feeling of entitlement to a few moments to myself each day began to interfere with my heart behind serving my children. If they happened to sleep/have quiet time simultaneously, I didn't view those moments as a gift from God, but something that I deserved. And when I don't have that time (which is most days), I ended up feeling frustrated and the sooner it was bedtime the better.
Jesus was the perfect example of a servant. I wrestled as I thought about His example and how I could reflect that nature to my sweet babies. Mainly, I struggled with my own selfishness and pride - "
Not a moment goes by each day where I'm not serving, don't I deserve to be rewarded with some time to myself?"
No. I don't. Grace and mercy. God does not treat us as we deserve, and how thankful I am!!
My role as a mother is to serve, love, and guide my children. Mothers are called to make huge sacrifices as we raise our children. It isn't easy and it isn't glamorous, but saying "yes" to children means saying "no" to many earthly desires while at they same time we say "yes" to making an eternal impact. When I serve them, I serve them out of appreciation and love for Jesus who was the perfect example of a servant. I serve them, expecting nothing in return, because the love I have for them is selfless and pure. Even on those usual days where I am meeting one need to the next and I can hardly catch my breath, let alone sit down for a quiet moment alone, I am filled with joy. I love serving my spunky daughter and my charming son. What a gift it is to be their Mama! What a gift to be home all day with them. What a gift that I have the most influence in their lives right now. What a gift of peace I have about not sending Addison to preschool simply so I can have some time to myself. What a gift of renewed energy and creativity I've been given as I step up to be an even better mother. What a gift the present is as they will be grown much too soon and I'll long for these chaotic days again.
Not long after I finally let go of my selfish desires, My Hero was gone for a week on a "business" trip ("business" and "fire department" usually aren't used in the same sentence!), which was the longest we've been apart in the almost 6 years we've been married. Before, I would have had a very difficult time managing everything around the house and taking care of my little loves while keeping a positive attitude. Even though it was certainly a challenging week with two sick children, I can honestly say that I missed my husband not because of the extra help he gives, but because I missed being with him. I missed his presence. The joy I woke up with and went to bed feeling each night surprised me, but excited me as I was fully present with my children from before the sun went up until after it went down. Why did I cling to my own selfish desires for so long? I had been missing so much! Was I tired? Oh yes! Exhausted, but that's when Nehemiah 8:10 came to mind, "the joy of the Lord is [my] strength."
And do you know what? Two days in a row Levi took a 3 hour nap!!! Even better than that, I thanked God for that unexpected gift instead of having an attitude of "finally!"
***********************************
And for a laugh...his cheesy, camera smile....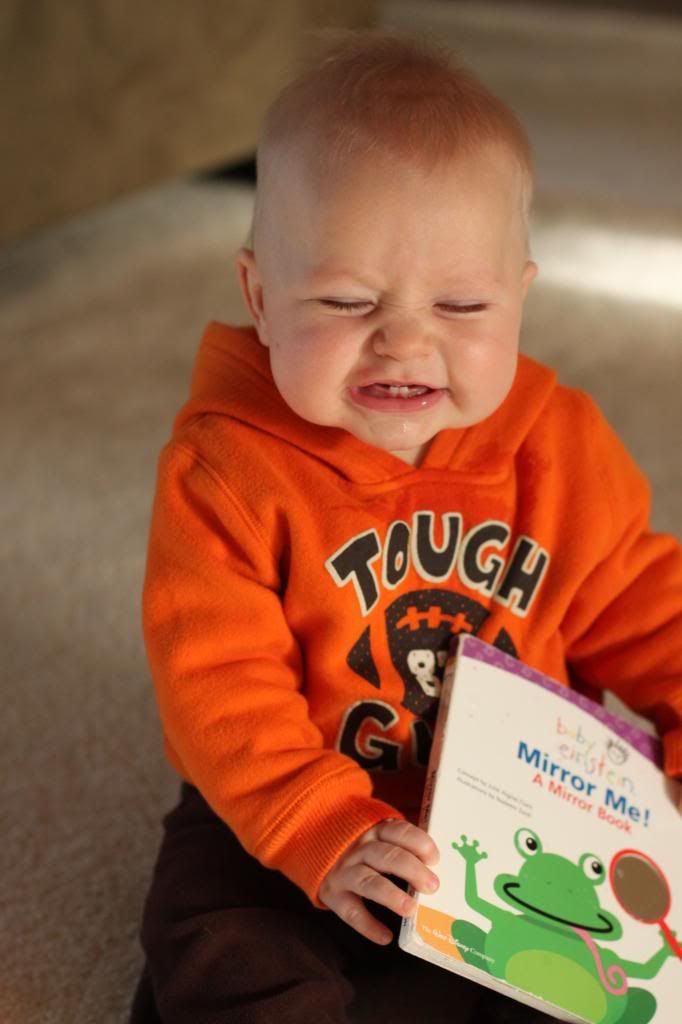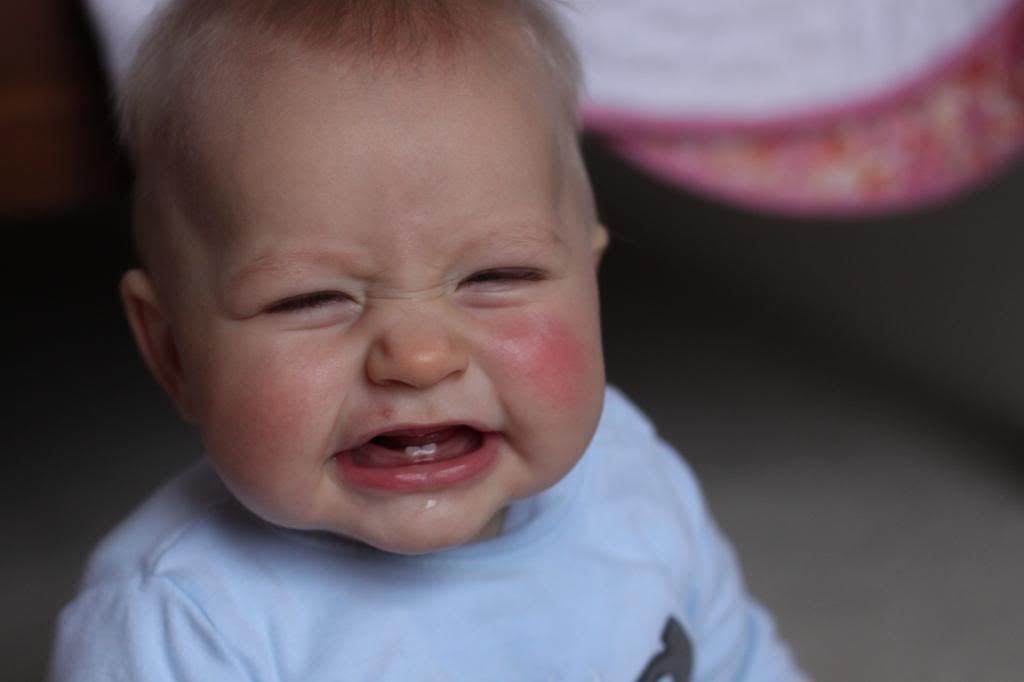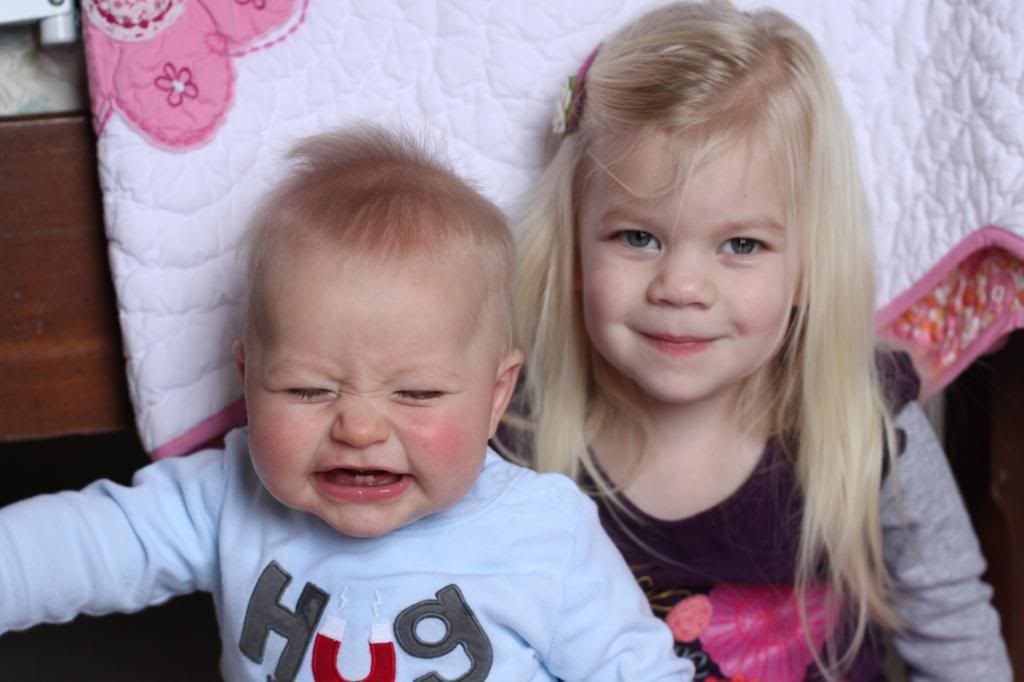 Now a few not-as-funny but still oh-so-sweet faces...