Be Still and Know by Steven Curtis Chapman
Be still and know that He is God
Be still and know that He is holy
Be still, O restless soul of mine
Bow before the Prince of peace
Let the noise and clamor cease

Be still and know that He is God
Be still and know that He is faithful
Consider all that He has done
Stand in awe and be amazed
And know that He will never change
Be still

Be still, and know that He is God
Be still, and know that He is God
Be still, and know that He is God

Be still; Be speechless

Be still and know that He is God
Be still and know He is our Father
Come rest your head upon His breast
Listen to the rhythm of His unfailing heart of love
Beating for His little ones
Calling each of us to come
Be still, Be still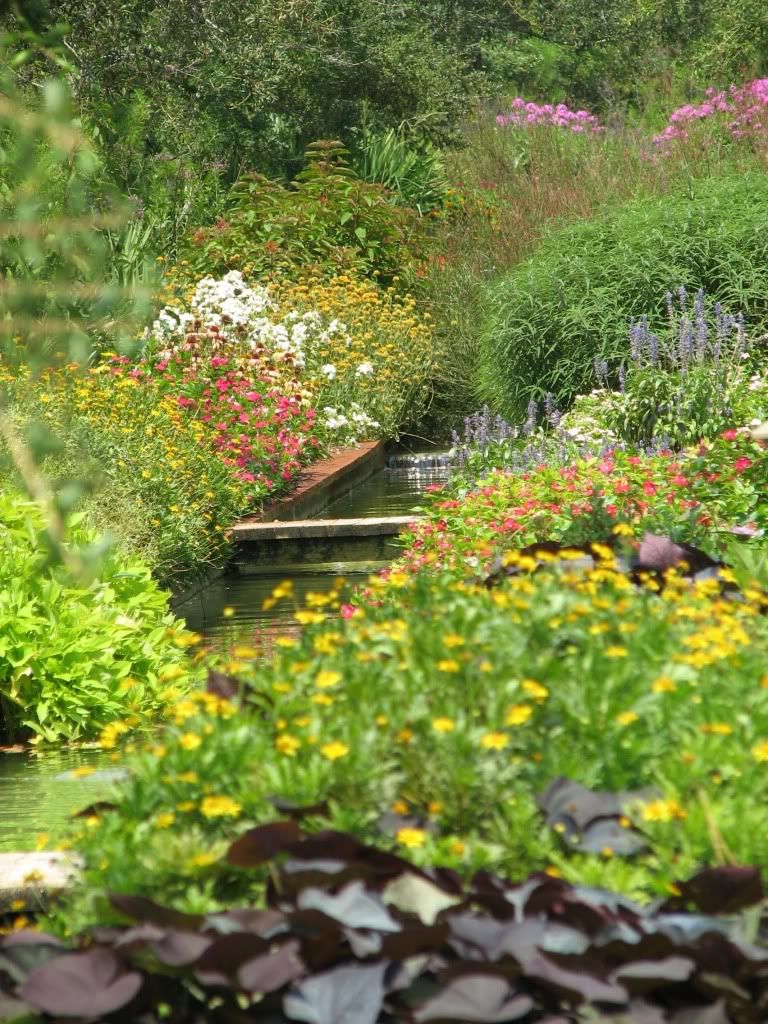 Rather than setting New Year's Resolutions and goals at the end of 2010, I decided to choose a word to focus on throughout the next 365 days. Without much thought, the words BE STILL were tied to 2011 for me.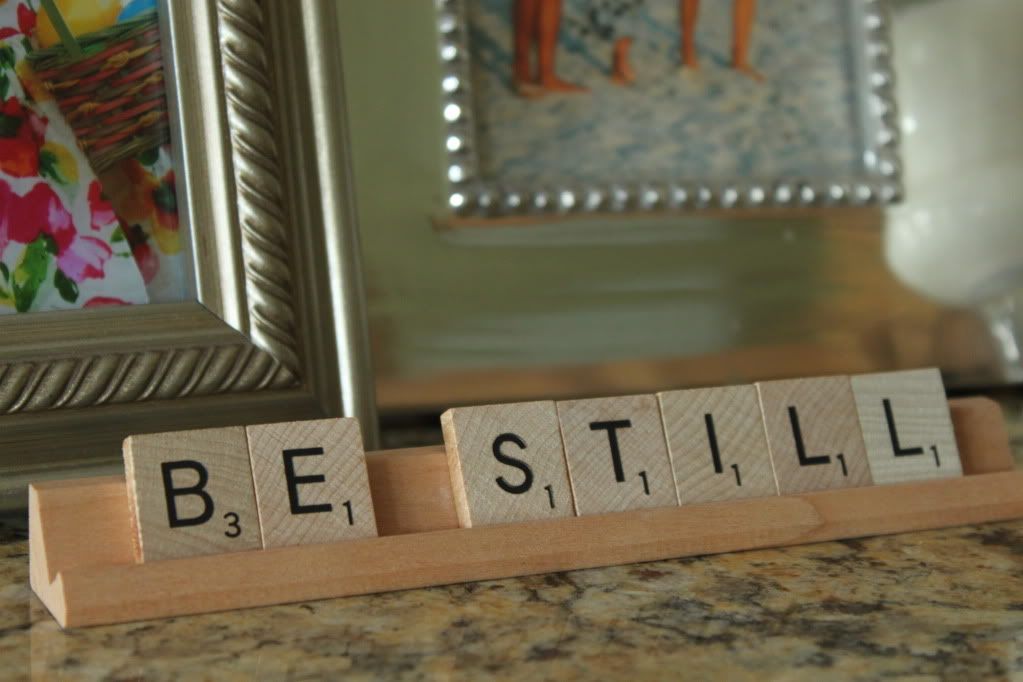 Scrabble tile idea found here
"Be still before the Lord and wait patiently for him." -Psalm 37:7
"Be still and know that I am God." -Psalm 46:10
Being still does not come easy for me. I am not a good relaxer, "rester," or "sit still-er." I like to get up early and be productive from the time I get out of bed until I return to bed later that night. However, I was missing out on an intimate relationship with my patient Heavenly Father as a result of this constantly on-the-move pace I was trying to keep. I came to the realization that I was like Martha...always running around, distracted, when I should have been Mary...sitting at the feet of Jesus, listening and soaking Him up; being still.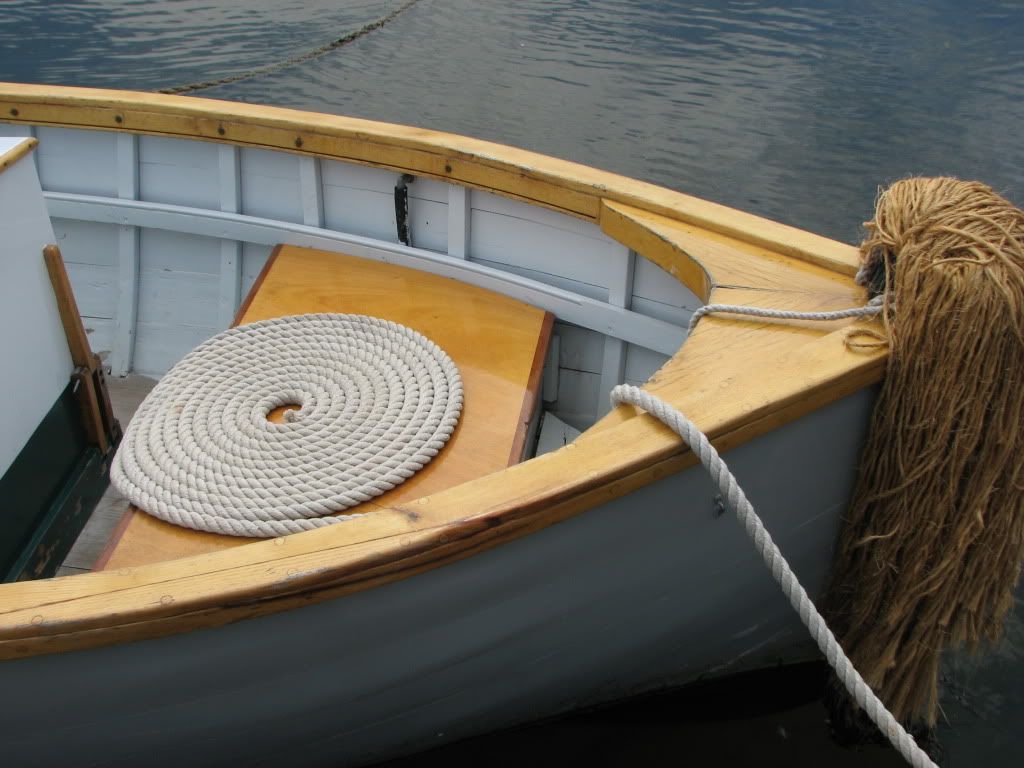 While in college, I listened to a message by Andy Stanley (in the
Sinai Code sermon series
) on the importance of the Sabbath. Andy encouraged his listeners to follow God's command by setting aside one day of the week as a work-free day. I took Andy's challenge. My "rest day" was not always Sunday, but it was a 24 hour period without interruptions of work-related matters (at that time, schoolwork assignments). During this time I focused on my quiet times, spending time with friends and family, enjoying the beautiful outdoors, reading books for pleasure, etc. God used that day of rest in amazing ways and to my astonishment, I was able to finish everything I needed to on the other 6 days!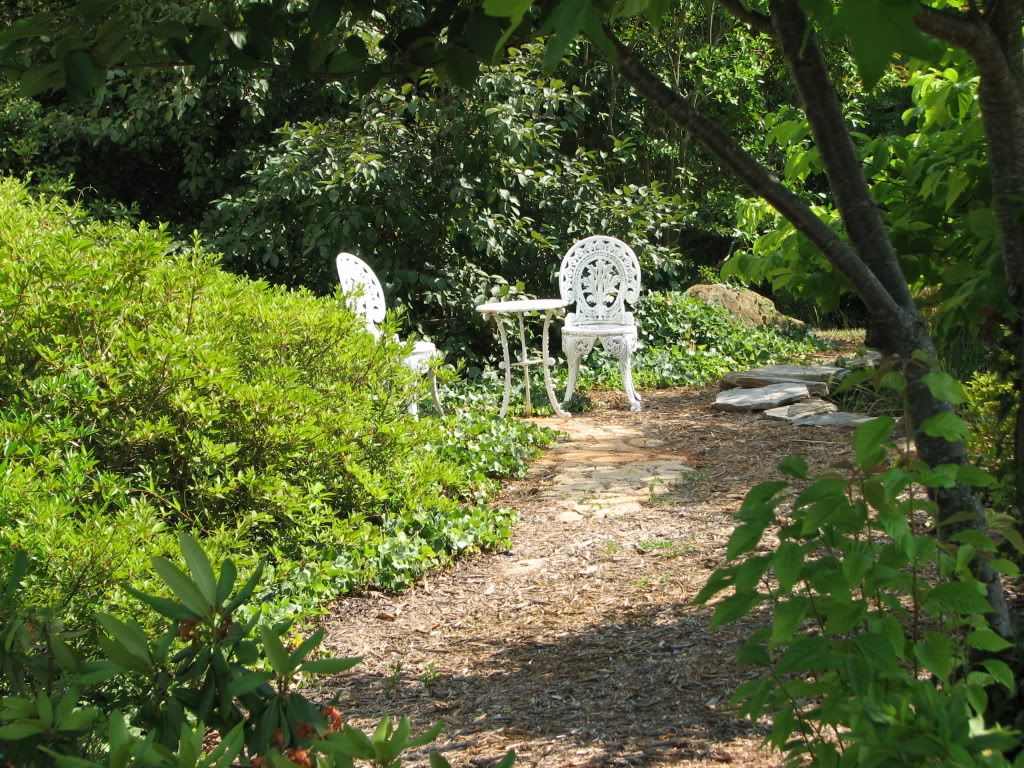 Recently, Jeff Henderson and Andy Stanley preached an
incredible
sermon series entitled
Life Apps
. (Click the previous link and you can listen for free!) The fourth message really hit home. Jeff clearly explained the importance of rest as it relates to God and the Bible. The message is described the following way, "Can naps and vacations actually be spiritual disciplines? Communicating the importance of rest was one of the first things God did in the Bible. So why have we neglected - or worse denied - the importance of this principle? In this message, Jeff Henderson illustrates the pattern God gives us for the pace of our lives. And it just may begin with a nap."
With the truths of those messages and the words "be still" etched into my every day, I am slowly learning how to sit quietly at the feet of Jesus each and every morning and then to find moments throughout the day to be still. I want to
"sit at His feet, to listen to His Word, to receive His love, to let Him change me, and to pour out my heart's devotion to Him" (
quoted from Nancy Leigh DeMoss in
A Place of Quiet Rest
).
What changes have I made to open the door for this kind of relationship with God? First, I have to get up early, earlier than even I would choose, each and every morning. My Sweetie Pie takes after her Mommy already as she is an early riser! I need some moments of undivided attention with My Savior while the day is still young so my heart and mind are in tune with God before I even leave my bedroom. At first it was a struggle. My alarm would go off and I would want to stay in bed a few more minutes (sometimes those "few more minutes" turned into a half an hour and not long after that my little Morning Glory woke up and my chance of a few alone moments vanished). Thankfully I am learning and changing. Most days I go to bed each night looking forward to the upcoming morning. This special time has become a part of my every day, whereas before it was something I tried to squeeze into my day if Addison happened to sleep in.
I am slightly amazed and very excited as I go about each day and I recognize the areas God is tweaking me to be more like Him ("tweaking" in some areas, doing a 180 in others!). My mind and days seem less cluttered, more purposeful, peaceful, as I am avoiding distractions that move me away from God and my family. I am able to start the day equipped with the Word and with His mindset at the front of mine. While I still fail time and time again, I am taking baby steps in the right direction and I am so thankful for a Heavenly Father who opens His arms wide to me and who loves me enough to change me so I can be a blessing to others while bringing Him glory.
In addition to the benefits of having a deepening personal relationship with Jesus in my life, my prayer is that Addison will know at an early age that God is essential to make it through each day. Setting this example shows her that we need God each day, not just when life takes a detour and things become difficult. How can I hope that Addison would have this dependency on God if her Mama doesn't make it a priority? I am looking forward to the age when Addison is old enough to observe me spend time in the Word and possibly sit beside me as she reads her own Bible (maybe even with a warm homemade blueberry muffin and the windows open as we listen to the birds!). I want to model for her that prayer is not a monologue, but a two-way conversation. No, I've never heard God speak audibly, but I see glimpses of Him and I feel His presence and He leads me as I spend time communicating with him. I want to talk to her about what God is teaching me and how much Jesus desperately loves her and longs for a relationship with her.
And I don't want my time with the Lord to stop at the beginning of the day. I want the constant communication to go from sun up to sun down. While I may not have any more opportunities to sit alone as the day progresses, I can still find brief moments to be still. I want to meditate on the Scripture I am memorizing and praise God for His many gifts and for His evident love. This is where Ann Voskamp and
One Thousand Gifts
has made such a huge impact throughout my day. My
eucharisteo
notebook and pen stay open in the kitchen so I can write down my gifts all day long. My day sways back and forth between changing diapers, cleaning sticky hands, grocery shopping, cooking, tutoring, watering the garden to "wow, God, those birds are singing a beautiful song this morning. Thank you." Or, "This place is a wreck! Thank you, God, for a house to live in. Thank you that I have the ability to clean and serve my family in this way." Or, "It brought me so much joy to watch Addison share a toy with her friend today. Thank you for her sweet spirit and for encouragement that my guidance in her life is having an effect." Thus, I am finding moments to be still amongst the chaos as I draw closer to the heart of God.
Hopefully in the near future I can take a day to spend alone, with God, in a beautiful setting. A mini-retreat. There are few places closer to my heart or where I feel nearest to God than
WinShape Retreat
.

I am carefully, slowly savoring the gift I am opening day after day...

#128 The truth of Jeremiah 29:13 - "You will seek me and find me when you seek me with all your heart."

---------------------------------------------------------

If you are willing to share, I'd love to know how you find a block of time each day and moments throughout the day to be still despite your busy life. How are you teaching your children the importance of being still before God?