"Whether you choose to count your blessings or choose to complain, it's helpful to understand that
you have a choice
." -Tommy Nelson in
The 4:8 Principle
---------------------------------------------------------
More and more gifts continue to be found each and every day. I am amazed at the multitude and so thankful...
113. An unexpected evening downpour to quench a dry earth
119. Morning fog dancing around the curtain of dark green trees
122. A light blue, lavender sky with one long, puffy airplane trail dividing it in half
131. Slowly savoring my once-a-year Chick-fil-A milkshake (Banana pudding!)
133. A clean house at the start of a new day
138. Hearing a student I tutor say, "I love writing!!"
149. Vermont maple syrup drizzled over a warm wheat pancake
150. The sweet, summery smell of watermelon - if I could create any perfume it would smell just like watermelon!
152. An opportunity to practice not getting frustrated when my dog barked and woke Addison up from a much needed (for her sake and mine) nap
158. The fact that Addison leaves on her sunglasses and hat simply for the reason that she wants to look like Daddy
159. A cool morning that brings back memories of summers in New England - thin, refreshing air, chilly breeze, warm sun, crystal-blue skies
160. Long talks into the night with my sister, comfortably sitting on her couch
162. Watching Addison wear my old dress in a quiet field surrounded by mountains, birds, tall grass, and horses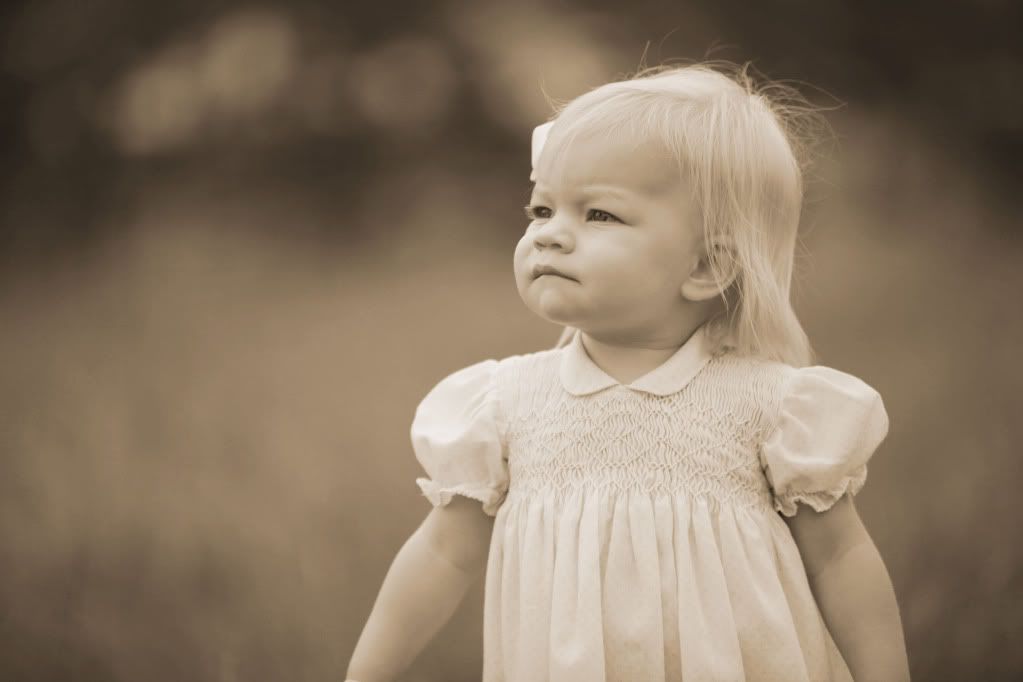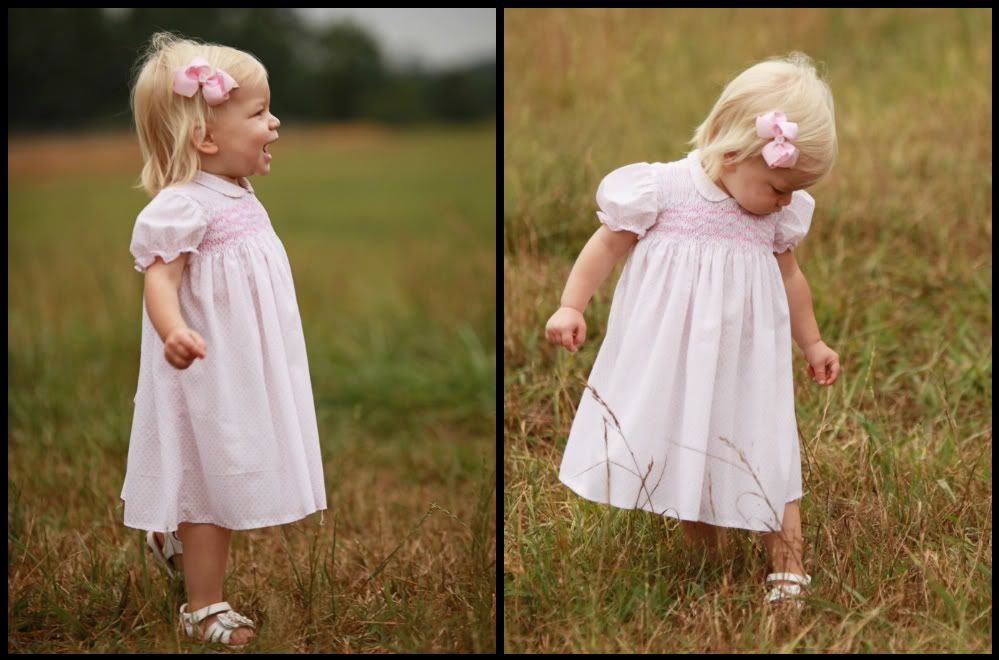 Photos taken by my talented sister!
165. Enjoying a snack shared with ducks and a quiet pond
169. A clean baby after a busy day
Photo taken by my talented sister!
175. Spending an evening with dear friends - feeling like no time has passed at all!
177. Celebrating my wonderful Dad and my husband on Father's Day - what incredible men!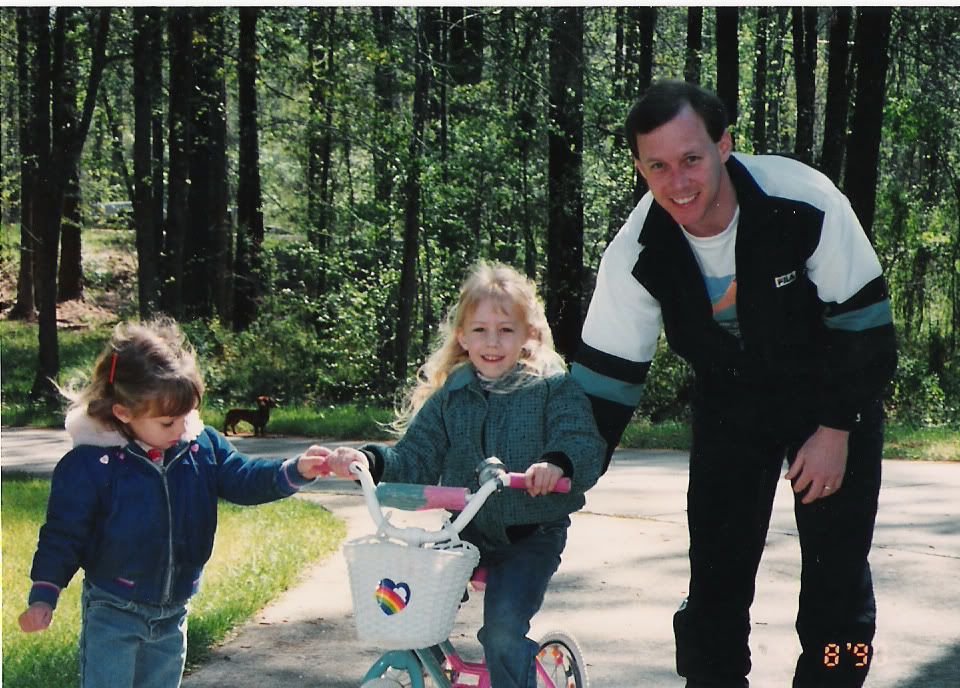 My dad, sister, and me many years ago
178. Addison decided to hug and kiss the playground before we left - how sweet!
179. Her pride and joy when she accomplishes something new followed quickly with a loud "yay!" and clapping! :)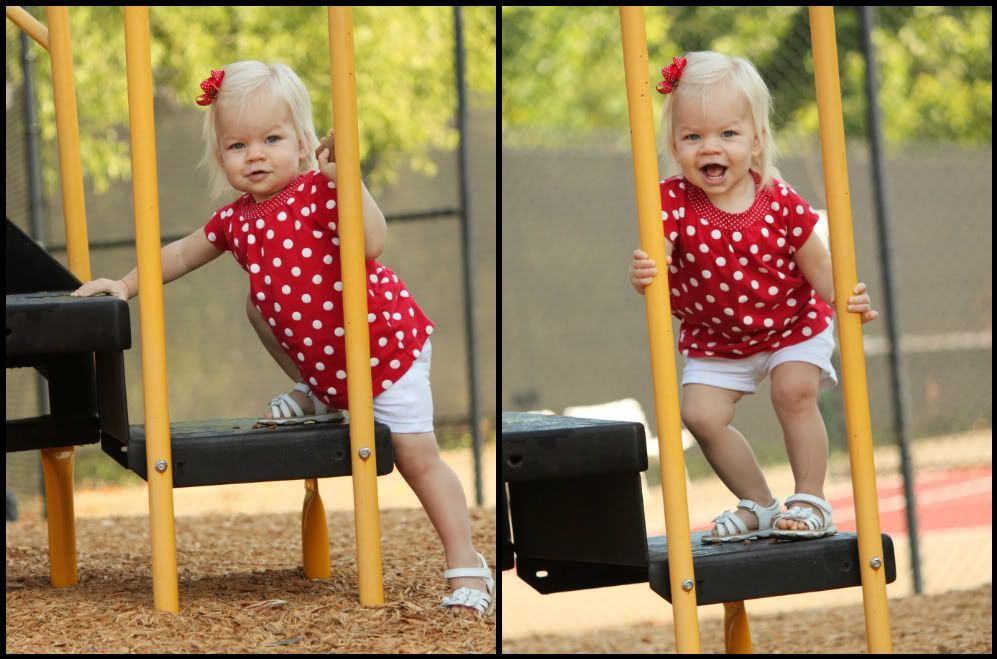 180. Matt discovering hundreds of fireflies last night when he let our dog out before bed. I have never seen so many dancing lights in one place before! Tonight I am going to set up the tripod and try and capture this incredible sight! Words cannot do it justice!
(Note - Sadly, no luck with the picture!)
---------------------------------------------------------
I just finished reading a book entitled
Mustard Seeds
by Lynn Coulter. It was exciting to discover that Lynn already views her life through the lens of counting gifts and recognizing God in the small details of life. Here's an excerpt:
"God called me back to faith in a hundred ordinary little ways: through a friend's loving words, an encouraging phone call, a timely note or card in the mail. He opened my eyes to see and appreciate his myriad daily gifts: the freshness in the air after rain blows through; a wren's nest built in an old motorcycle helmet atop a pile of trash; the sweet, gritty taste of pears; the deep shade in a grove of pecan trees; the cool, damp feel of morning fog; fat blackberries hanging from prickly vines; my son's laugh; dark nights that helped me sleep; the sound of a rooster's throaty wake-up call. God has given me a wake-up call through all these tender mercies and many more."