"But Mary treasured up all these things and pondered them in her heart."
I have always loved this verse, even before I had a child of my own. Since I have become a mother, treasuring up moments has become like breathing...I don't even notice I am doing it, but it is always there, a part of my every day. These slivers of time cannot be captured on film or put into words. They are meant to be savored and treasured deep in our hearts. Gifts from God. I can imagine that I will revisit these tender moments more often than I look back at her pictures once she's grown.
Reading
One Thousand Gifts
and applying its principles as I draw closer to the heart of God has opened my eyes to even more treasured moments.
Be still.
Slow down.
"Wherever you are, be all there."
I am learning the posture I need in order to recognize these gifts from God.
I wonder what treasures Mary cradled in her heart about her precious son, Jesus. How I wonder!
As I said earlier, putting these moments into words is quite impossible due to the depth of a mother's love for her child...it truly is indescribable. However, I began penning my love for my child and awe of our Creator the day we found out Addison was alive and growing inside of me. I now have two notebooks. One contains not a blank page and the other is slowly becoming empty of white pages as well. These pages are full of handwritten thoughts, memories, and an outpouring of love for my little miracle. Writing, reading, and re-reading these pages is powerful. God has been so present. My deepest prayer is that one day when Addison is much older she will read these words, know how deeply adored and cherished she is, and take to heart the truths of God intermingled within the pages.
These are books of treasures, treasures only a mother can fully understand....too numerous to list and too precious to attempt to describe here.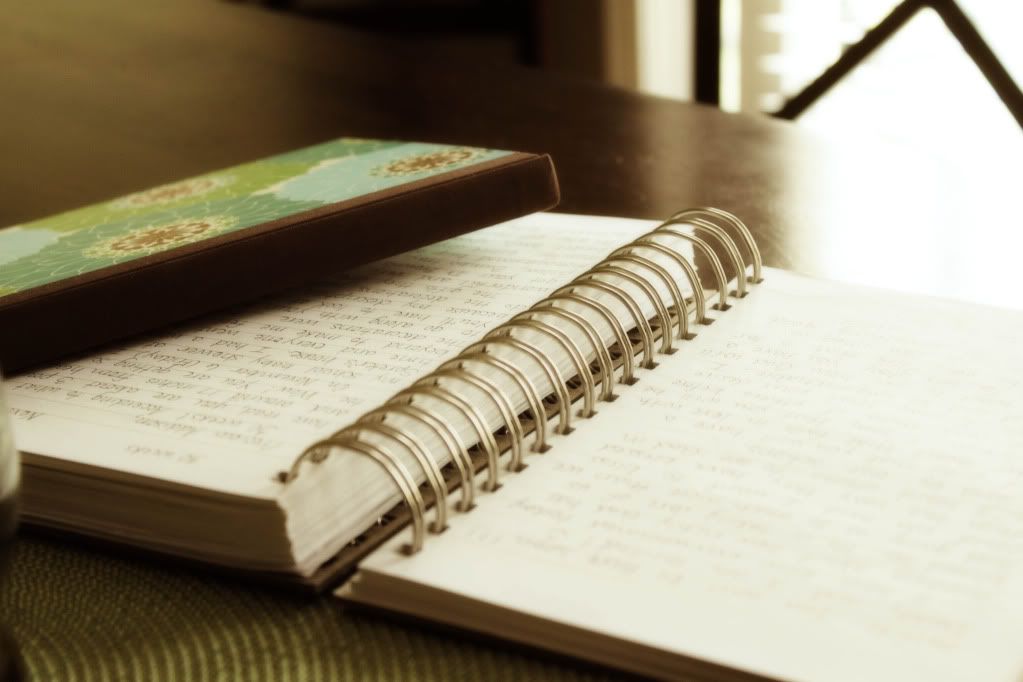 ---------------------------------------------------
I am thankful for....
367. The love of our extended family
369. How Addison immediately holds my hands to pray and says "Bible" when she sits in her highchair.
380. The ability to write
381. A love for my daughter that grows deeper by the moment, regardless of what she does or doesn't do
382. Facing
motherhood's daily bravery
383. Looking into the eyes of My Hero, eyes that see me as beautiful
384. Laughter over the small things
385. Missing him when he is at work
386. Ironing (my least favorite household chore) - another opportunity to serve my family
387. The AC went out in my car - honestly not quite sure what to be thankful for at this point - maybe the fact that we have the money to repair it, even though we weren't planning on that expense
388. Her giggle and twinkly blue eyes
401. A place to call home
409. An early Saturday morning family outing to pick blueberries!